Property Marketing That Works!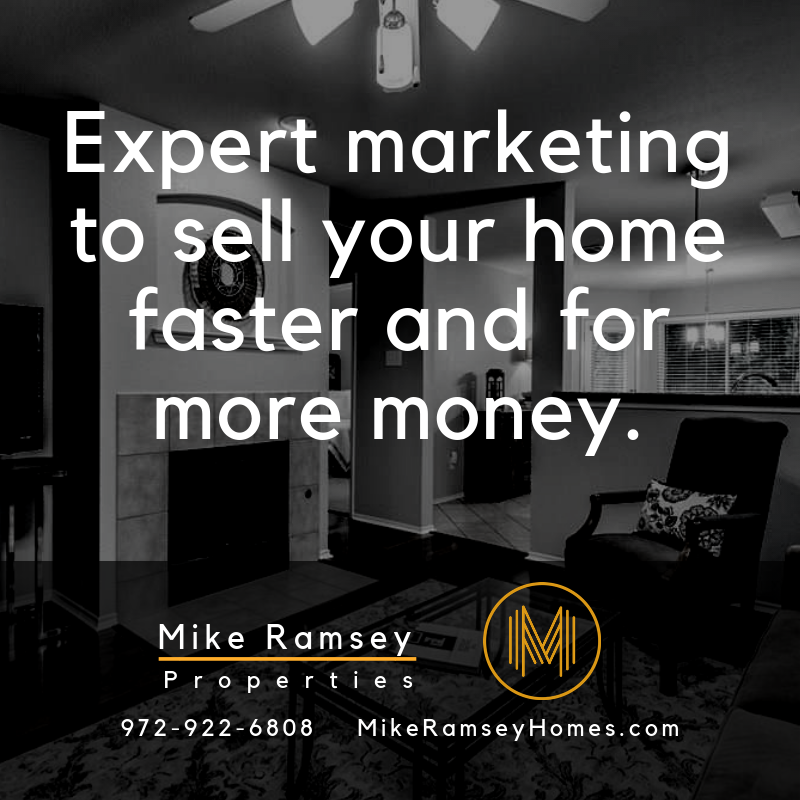 The Mike Ramsey Properties team of DFW / Dallas area real estate agents takes property marketing very seriously.  We have over 25 years experience marketing real estate, as well as advertising products for Fortune 500 companies.  We go way beyond merely posting your home on the MLS because we know that a custom-tailored marketing strategy has more potential to sell your home faster and for the most money that current market conditions allow.
Who you hire matters! 
Hire a Realtor who specializes in marketing your home.  After all, your home is most likely your most valuable asset.
Here is how we market your home better:
- Professional Photography for every listing
- Drone photography for select properties
- Single property website for email and social media networks
- "Just Listed" announcement flyers mailed to surrounding neighborhood
- High-quality property brochures 
- Event-style open houses designed to draw maximum traffic
- Recommendations for home staging and repairs for optimal buyer attraction
- Print advertising in D Magazine or Lifestyles Magazine
- Promotion on Coldwell Banker's weekly local TV program and YouTube channel  (See sample video below)
- Virtual tour video
- Virtual brochure sent to potential buyers via text when they visit the property
- Listing announcement emailed to over 5,000 area real estate agents
- Social media ads targeting key buyer groups
- Posts on social media networks including Facebook, LinkedIn, YouTube, Twitter, and Instagram
- Social media post boosts
- Video email and video text blasts to extensive DFW area realtor and potential buyer networks
- Consistent follow-up with every potential buyer or buyers agent
- Regular market analysis and marketing performance analysis provided on a weekly basis
We have the ability and expertise to leverage all of these home marketing strategies for the highest exposure and maximum results.
Can superior marketing really sell a home faster and for more money?  
Read this recent case study and decide for yourself.
We took over a property listing in McKinney that was sitting on the market for almost 5 months without attracting a single offer.  The price was even reduced significantly without generating any positive results.  The sellers fired their listing agent and interviewed two other real estate agents who both suggested another significant price reduction.  The Mike Ramsey Properties team was hired based on recommending that the seller invest in relatively minor property upgrades rather than making another significant price reduction.  After the upgrades were made, our team deployed our robust marketing strategy and the home went into contract in less than 30 days for an amount close to the asking price.   Before the new marketing campaign was launched, the property listing averaged less than 20 views on Zillow per day.  After launching the campaign, the property averaged over 80 views per day on Zillow until the property went into contract.
Since every property is different and market conditions are constantly changing, we are not guaranteeing these same results for every property we list. But it goes to show how a well-marketed home attracts more potential buyers than a poorly marketed home.  
What our past clients are saying:
"Mike made the whole transaction much easier. He was incredibly on top of our very specific needs.  Mike sent us updates daily and was available to show us homes on our schedule."  - Wes and Ashley Beckwith
"Mike is the hardest working, most genuine person.  Without Mike, we would never have found the home we love, and he made our move to Texas from California so easy!  Mike worked endless hours to get the deal done, even sending us links to the school district website to make sure we were ready for registration day! We absolutely loved working with Mike!"  - Sue and Chris Shannon
"Mike Ramsey was our listing agent.  He is proactive and understands how to market and negotiate.  He communicated at every step of the process.  He proactively scheduled open houses and marketed the house. He is honest and listened to our concerns and provided professional feedback.  His attention to detail is impressive."  - Kregan Liang
"Mike was AWESOME during both the sale of our old home and purchase of our new one! His advice and guidance throughout the process were top notch.  He stayed in constant communication with us about everything. He took great care to make sure we got the dream home we wanted, even so far as making short notice meetings with builders to make sure we were getting what we wanted for the right price.  If we ever go home shopping again, Mike will be one of the first calls we make!" - Shaun & Raylene Miller 
Click here: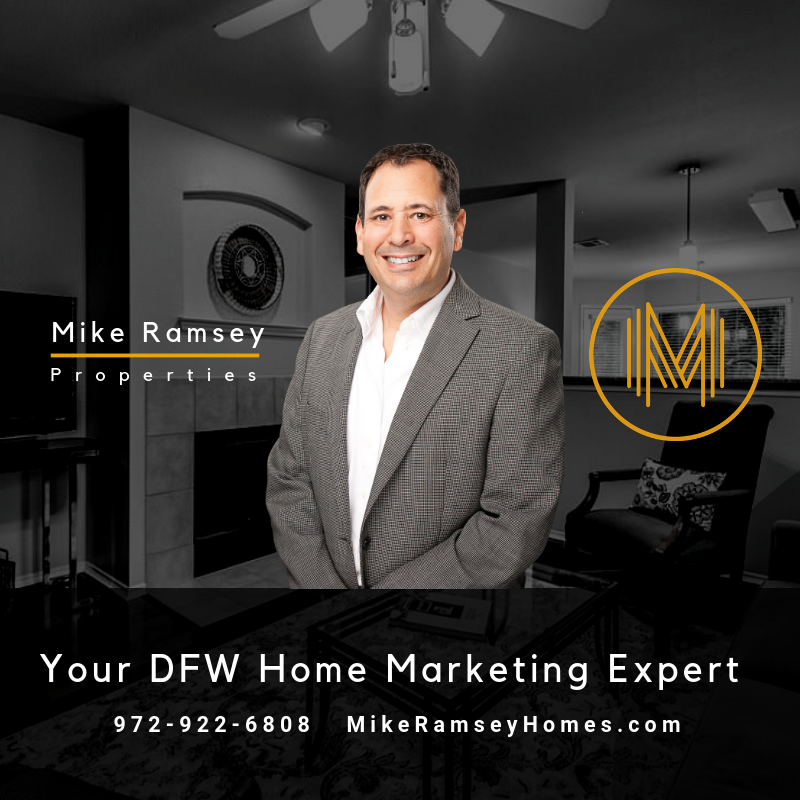 When you choose the Mike Ramsey Properties team of DFW / Dallas Area Realtors to list your home, we automatically feature it on our weekly TV show, At Home in North Texas, reaching out to the entire DFW regional market.  Then we blast it out via our Youtube channel. 

It's a smart move!